Global Infrastructure Finance
Assured Guaranty works with local and sovereign governments, regulated utilities, and private-sector developers and operators, along with their bankers and advisors, to reduce the medium- and long-term funding cost of essential projects and services in countries with investment-grade sovereign ratings.
Among the issuers who can benefit are:
Public-private partnership (PPP) and private finance initiative (PFI) projects
Private infrastructure companies
Regulated utility companies
Sovereign issuers
Municipal issuers
Government-sponsored enterprises
Guaranteed infrastructure financings have the characteristics to meet fundamental demand from pension funds, insurance companies and other institutional investors seeking long-tenor, low-risk investments that are well matched to distant future liabilities. They also help banks compete for business, increase returns and manage lending capacity.
In addition to our guaranty, we add value through our credit skills, ability to negotiate documentation appropriate for our guaranty and ongoing surveillance capability. Our guarantees help issuers gain capital market access and achieve broader distribution in both domestic and cross-border markets, while providing investors credit protection and liquidity.
Assured Guaranty subsidiaries have written guarantees for sovereign, municipal and public infrastructure financings outside the United States since 1988. Our broad experience encompasses highways, bridges, tunnels, airports, rail projects, hospitals, water and waste management facilities, gas and electric distribution systems, government buildings, convention centers, stadiums, universities and other infrastructure.
We provide credit enhancement for listed bonds, private placements with sole or a restricted number of institutional investors, and bank loans. We apply our guaranty in both primary and secondary markets and to issues with fixed, floating or inflation-indexed interest rates.
Assured Guaranty subsidiaries have the ability to write financial guarantees in the United States, United Kingdom and most countries of the European Union, as well as in Australia, New Zealand and certain other developed countries of Asia and the Americas. We maintain close contact with lenders, investors and borrowers in all of these markets.
We guarantee only transactions that finance essential public projects or services. We require that both the transaction's underlying credit quality and the sovereign rating of the country of origin be at least investment-grade, and we apply other criteria appropriate for the transaction's revenue sources, credit characteristics, transaction structure and expected return.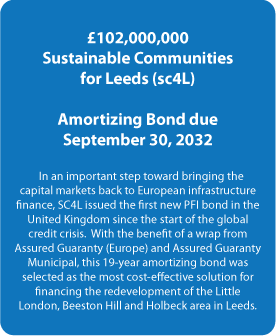 Contacts
International
Nick Proud
Senior Managing Director
44 0 20 7562 1910
The Americas
Lorne Potash
Managing Director, Infrastructure Finance
1 212 261 5579
Christopher Jumper
Director, Infrastructure Finance
1 212 261 5514
Sam Nakhleh,
Director, Infrastructure Finance
1 212 261 5522