Environmental Stewardship
Assured Guaranty recognizes the importance of a healthy environment to our global community, our business and our people. We are committed to understanding, managing and mitigating the risks to our business associated with environmental issues and to operating our business in a sustainable and environmentally responsible manner and in line with the principles articulated in our Climate Change Statement.
We believe that Assured Guaranty will experience the material impact of environmental issues most strongly in our business as a financial guaranty insurer and as an investor. We believe the direct impact of our operations on the environment is relatively small, but we have a role and a responsibility to manage our operations in ways that reflect our respect for the environment.
The Environmental Policy guides our actions and strategies in four critical areas:
Insurance Risk Management
Investment Opportunities
Business Operations and Facilities Management
Employee Engagement
The Environmental Policy applies to all personnel, across all offices and operations of Assured Guaranty.
Oversight and Implementation of our Environmental Initiatives
The Environmental and Social Initiatives Task Force (Task Force), whose members are senior Assured Guaranty executives, oversees and implements the objectives of the Environmental Policy. In addition to reporting on the progress of our environmental efforts, the Task Force:
Examines our organization to identify ways we can contribute to the sustainability of our environment
Coordinates and supports activities that reduce our environmental impact
Promotes environmental awareness among our employees and encourages employee engagement
Environmental Impact Review for New Financial Guaranty Business
When reviewing a financial guaranty transaction, we consider whether there are environmental issues that could negatively impact the performance of the transaction.
An adverse environmental impact may be something the financial guaranty transaction creates that causes exposure to others (e.g., a coal-fired generator) or something to which the financial guaranty transaction is exposed (e.g., municipalities where coastal flooding can occur). In our financial guaranty transactions, we seek to evaluate the risks of negative environmental impacts such as exposure to climate-driven severe weather or contamination from toxic waste, radiation, carbon emissions, coastal erosion or air pollution.
Investment Portfolio
Our investment portfolio holds predominantly fixed-income assets; therefore, its primary risks are credit-related. Nonetheless, environmental issues, including regulatory changes, changes in supply or demand characteristics of fuels, technological development and extreme weather events, may play a role in the evaluation by us or our investment managers of the creditworthiness of specific issuers and industries.
We determined in 2016 not to make any new investments in thermal coal enterprises. As a consequence, we refrain from making any new investments in (i) thermal coal enterprises that generate 30% or more of their revenue from either the ownership, exploration, mining, or refining of thermal coal, and (ii) corporate and municipally owned utilities that generate 30% or more of their electricity from thermal coal.
Our Corporate Offices
We are committed to reducing greenhouse gas emissions in the offices where we work. Since 2016, we have relocated our offices in New York, San Francisco and London to Green Buildings. Approximately 97% of our employees now work in such buildings.
1633 Broadway, New York, NY
The headquarters of our U.S. offices - at 1633 Broadway in Manhattan - is rated a Gold LEED building, a top environmentally green rating. LEED certified buildings strive to save resources and have a positive impact on the health of occupants. The building is also ENERGY STAR rated. ENERGY STAR is a joint program of the U.S. Environmental Protection Agency and the U.S. Department of Energy protecting the environment through energy efficient products and practices. Commercial buildings that have earned the ENERGY STAR use on average 35% less energy than typical similar buildings and generate one-third less carbon dioxide.
150 California Street, San Francisco, CA
Assured Guaranty's San Francisco office is located in a building that has a Gold LEED level of certification and is also ENERGY STAR rated. The building achieved the 2013 BOMA EARTH Award 1st Place Winner in Small Building category (under 300,000 square feet). The Bay Area EARTH Awards measure a building's environmentally sustainable operations during a calendar year.
6 Bevis Marks, London, UK
Assured Guaranty has its London office in a building with an "Excellent" BREEAM (Building Research Establishment Environmental Assessment Method) rating. In addition, the building has in place an ISO 14001: 2015, setting forth the standards for its environmental management system that are intended to minimize their operations' negative impact on the environment, comply with applicable laws, regulations and other environmentally oriented requirements, and continually improve in these areas.
Efforts to Reduce and Recycle
Assured Guaranty is committed to doing its part for a greener planet. We have instituted in our offices a number of recycling measures. In our offices we also leverage technology to reduce our carbon footprint, through such measures as deploying motion sensors and LED lights to reduce electricity usage; reducing paper usage through use of digital platforms and portable devices; and video conferencing capabilities to help limit travel.
We also seek other ways to reduce our carbon footprint and our use of natural resources. As an example, when Assured Guaranty relocated its New York headquarters in 2016, we intentionally reduced the number of personal printers, thereby lessening paper usage and electricity consumption.
Another example of one of the ways in which we reduce our usage of paper is our decision to send annual holiday cards to clients and counterparties electronically in order to eliminate the environmental impact associated with printing and mailing. We donate our avoided costs to selected charities nominated by employees.
Over the past few years, we have dramatically reduced the amount of paper we use and our disposable plastic water bottle usage. From 2015 through 2018, we saw reductions of 50% in printer page usage and 13% in disposable plastic water bottle usage at our U.S. headquarters in New York City, despite increasing the number of our employees.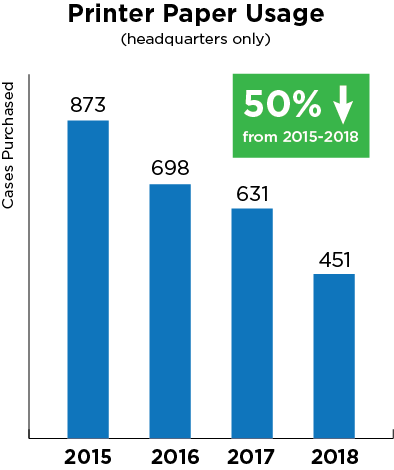 We also took advantage of the Securities and Exchange Commission's Notice and Access initiative to significantly reduce the number of Annual Reports and Proxy Statements we print and mail each year. By mailing only a simple notice to shareholders and making the full documents available online, we now produce only enough printed copies to meet the demand of those who request them, reducing both paper usage and the energy usage of mailing thousands of bound books. As an indicator, we have reduced our annual report mailing expenses by 27% from 2014 to 2018. Paper reduction initiatives have included decreasing the number of personal printers, defaulting the large printers to two-sided printing and copying and distributing board materials through electronic media.
We comply with ethical recycling standards for all IT equipment by using a vendor for electronic waste disposal that complies with the e-Stewards Initiative. The e-Stewards Initiative defines and promotes responsible electronics reuse and recycling best practices worldwide.
Additional Green Initiatives:
We recycle all used printer toner and waste toner cartridges
We use 100% recycled printer/copier paper
We use recyclable and/or biodegradable utensils and kitchenware for everyday use
We utilize a hyper-converged infrastructure in our datacenters that minimizes power usage versus a traditional setup, and we strive to continue significantly reducing data center power consumption with the retirement of old infrastructure
We look to purchase ENERGY STAR compliant devices where possible
Additionally, we are establishing procedures around tracking key operational metrics that can help us to reduce water usage and energy consumption further by monitoring such levels and reporting them to senior management. Initial data demonstrates positive trends. Our two primary office locations, which employ over 95% of our workforce, reported electricity usage in 2018 of 847 thousand KwH. Our prorated share of water usage at those facilities was 437 thousand gallons in 2018, which decreased from 510 thousand gallons in 2017.
Employee Engagement
We realize that our employees are a valuable resource and critical ally in furthering our environmental objectives. We help our employees become more aware of their individual impact on the environment, the importance of making environmentally conscious choices, and the availability of sustainable alternatives.
We encourage our employees to use resources such as energy, paper, and water more responsibly
We make it easy for our employees to recycle by providing paper-only recycling bins at each employees' workstation as well as placing ample separate paper and plastic/bottle recycling bins throughout the office common areas
We support our employees in reducing their environmental impact by offering mass transit incentives for commuting and green cars for corporate travel
Most importantly, we solicit suggestions from our employees, who know our business the best, for more environmentally responsible ways of conducting our operations. Protecting the environment is a shared responsibility. In 2019, we began an employee sustainability suggestion box on our intranet for our employees to provide suggestions.
In 2019, we are starting a new initiative that will reduce and potentially replace our use of disposable plastic water bottles and instead challenge ourselves to rely nearly entirely on reusable water bottles. Our employees are highly engaged in our collective efforts to reduce, reuse and recycle, often making suggestions on ways to improve what we do, and partnering with senior management to make it happen.
We are proud of the accomplishments we have made and intend to continue to do our part to protect our planet.