Environmental Stewardship
As a company, we recognize the importance of a healthy environment to the global community, our business and our people. We are committed to understanding, managing and mitigating the risks to our business associated with environmental issues and to operating our business in a sustainable and environmentally responsible manner and in line with the principles articulated in our Climate Change Statement.
We believe that Assured Guaranty will experience the impact of environmental issues most strongly in our business as a financial guaranty insurer, an investor and an investment manager. We believe the direct impact of our operations on the environment is relatively small, but we have a role and a responsibility to manage our operations in ways that reflect our respect for the environment.
The Environmental Policy guides our actions and strategies in four critical areas:
Insurance Risk Management and Strategic Opportunities
Investment Opportunities
Business Operations and Facilities Management
Employee Engagement
The Environmental Policy applies to all personnel, across all offices and operations of Assured Guaranty.
Oversight and Implementation of our Environmental Initiatives
The Environmental and Social Initiatives Task Force (Task Force), whose members include senior Assured Guaranty management, oversees and implements the objectives of the Environmental Policy. In addition to reporting on the progress of our environmental efforts, the Task Force:
Examines our organization to identify ways we can contribute to the sustainability of our environment
Coordinates and supports activities that reduce our environmental impact
Promotes environmental awareness among our employees and encourages employee engagement
Insurance Risk Management and Strategic Opportunities
When considering transactions for our financial guaranty, we consider whether there are environmental issues that would negatively impact the ability of obligors to meet their debt service obligations. Consideration of environmental issues is an integral part of our credit process for evaluating whether or not we will insure a credit. Given that some of the credits that we insure extend for thirty years or more, our credit process necessarily take a long range view. Potential environmental issues that may seem far in the future to some are important to us now. As a result, the consideration of environmental factors is a documented part of our credit process.
The growing emphasis on environmental considerations potentially presents strategic opportunities for Assured Guaranty to create value while addressing important economic and ecological issues. Issuers will likely access the capital markets to finance infrastructure improvements, renewable energy generation and new technologies. The increased bond issuance may provide Assured Guaranty an opportunity for enhanced financial guaranty revenue.
Investment Portfolio
Environmental, social, and governance (ESG) factors may have an effect on asset value and performance. ESG factors may include transparency of reporting and disclosure; good governance practices; changes in supply or demand characteristics for fuels; technological development; extreme weather events; human capital management; supply chain, and corporate culture and reputation. As a prudent investor and responsible investment manager, we understand the importance of fundamental research and careful consideration of relevant risk factors, including ESG factors. We are committed to incorporating material ESG information into its investment analysis in order to enhance the investment decisions required to achieve its principal investment objectives.
Our investment portfolio holds predominantly fixed-income assets; therefore, its primary risks are credit-related. Nonetheless, ESG plays a role in the evaluation by us or our investment managers of the creditworthiness of specific issuers and industries. Our portfolio managers rely on their respective ESG corporate philosophy statements and use ESG information, along with a variety of other factors, including risk and valuation metrics, when conducting research and due diligence on new investments, and again when monitoring investments for Assured Guaranty's investment portfolio.
We determined in 2016 not to make any new investments in thermal coal enterprises. As a consequence, we refrain from making any new investments in (i) thermal coal enterprises that generate 30% or more of their revenue from either the ownership, exploration, mining, or refining of thermal coal, and (ii) corporate and municipally owned utilities that generate 30% or more of their electricity from thermal coal.
Assured Investment Management
Our investment management subsidiary, Assured Investment Management LLC*, conducts intensive research and evaluates a variety of factors including relevant ESG information as part of our financial diligence, analysis, risk management and portfolio construction processes – this allows us to determine whether an investment will meet the risk and return goals of our investors. Depending on specific investor preferences, including those that are ESG related, we may restrict investments in certain sectors.
Corporate Offices
We are committed to reducing greenhouse gas emissions in the offices where our employees work. Since 2016, over 95% of our employees have been working in Green Buildings.
1633 Broadway, New York, NY
Our office at 1633 Broadway in Manhattan is rated a Gold LEED building, a top environmentally green rating. LEED certified buildings strive to save resources and have a positive impact on the health of occupants. The building is also ENERGY STAR rated. ENERGY STAR is a joint program of the U.S. Environmental Protection Agency and the U.S. Department of Energy protecting the environment through energy efficient products and practices. Commercial buildings that have earned the ENERGY STAR use on average 35% less energy than typical similar buildings and generate one-third less carbon dioxide.
150 California Street, San Francisco, CA
Our San Francisco office is located in a building that has a Gold LEED level of certification and is also ENERGY STAR rated. The building achieved the 2013 BOMA EARTH Award 1st Place Winner in Small Building category (under 300,000 square feet). The Bay Area EARTH Awards measure a building's environmentally sustainable operations during a calendar year.
6 Bevis Marks, London, UK
Our London office is in a building with an "Excellent" BREEAM (Building Research Establishment Environmental Assessment Method) rating. In addition, the building has in place an ISO 14001: 2015, setting forth the standards for its environmental management system that are intended to minimize its operations' negative impact on the environment, comply with applicable laws, regulations and other environmentally oriented requirements, and continually improve in these areas.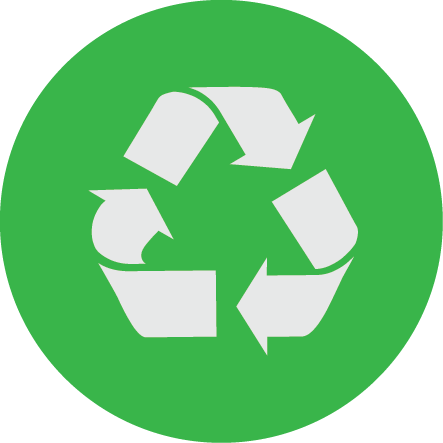 Efforts to Reduce and Recycle
Assured Guaranty is committed to doing its part for a greener planet. We have instituted in our offices a number of recycling measures. In our offices we also leverage technology to reduce our carbon footprint, through such measures as deploying motion sensors and LED lights to reduce electricity usage; reducing paper usage through use of digital platforms and portable devices; and video conferencing capabilities to help limit travel.
We also seek other ways to reduce our carbon footprint and our use of natural resources. Over the past few years, we have dramatically reduced the amount of paper we use. From 2015 through 2019, we saw reductions of 50% in printer page usage. When we moved to 1633 Broadway in 2016, we intentionally reduced the number of personal printers, thereby lessening paper usage and electricity consumption. We also defaulted the large printers to two-sided printing and copying and distributed board materials through electronic media. As another example, we send our annual holiday cards electronically, eliminating the environmental impact of producing and mailing physical cards. We donate our avoided costs to selected charities nominated by our employees.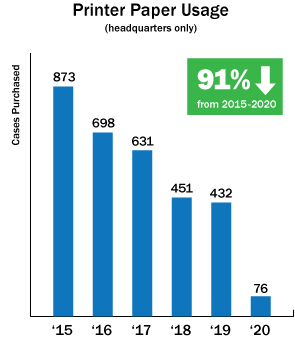 We also took advantage of the Securities and Exchange Commission's Notice and Access initiative to significantly reduce the number of Annual Reports and Proxy Statements we print and mail each year. By mailing only a simple notice to shareholders and making the full documents available online, we now produce only enough printed copies to meet the demand of those who request them, reducing both paper usage and the energy usage of printing and mailing thousands of bound books. As an indicator, we reduced our annual report mailing expenses by approximately 25% from 2014 to 2019.
Over the same 2015-2019 period, we realized a 57% reduction in disposable plastic water bottle usage at our office at 1633 Broadway, despite increasing the number of our employees. In late 2019, we stopped providing disposable plastic water bottles at that office and in several other locations, and instead added more filtered water and seltzer dispensers, encouraging employees to use reusable water bottles. Additionally, we replaced similar juice and soft drink single use plastic bottles with cans.
Additional Green Initiatives:
We recycle all used printer toner and waste toner cartridges
We use 100% recycled printer/copier paper
We use recyclable and/or biodegradable utensils and kitchenware for everyday use
We utilize a hyper-converged infrastructure in our datacenters that minimizes power usage versus a traditional setup, and we strive to continue significantly reducing data center power consumption with the retirement of old infrastructure
We look to purchase ENERGY STAR compliant devices where possible
As part of our energy conservation program, during 2020 the office at 1633 Broadway replaced its existing printer fleet with new more eco-friendly machines that are expected to provide savings to us. The outer casing material on the copiers are made from a recycled material that contains plastic from water bottles. The new printers use new generation toner made with plant-based "biomass" materials, which cuts toner consumption by 30% or more. In addition, smart toner fixing technology results in shorter warm-up times, further contributing to energy savings. Over the 3-year term of the leases, we estimate that it will save 25% per year in energy costs.
The new printers require users to log in to the printers in order to have their jobs printed. Industry experts estimate printing reduction by an average of 30% with these type of new printers. Based on 2019 paper usage, the projected paper reduction alone represents $6,600 per year in cost savings and saves approximately 100 trees.
Additionally, we are establishing procedures around tracking key operational metrics that can help us to reduce water usage and energy consumption further by monitoring such levels and reporting them to senior management. Initial data demonstrates positive trends. Our office locations at 1633 Broadway and in London reported electricity usage in 2019 of 828 thousand KwH, down from 847 thousand KwH in 2018. Our prorated share of water usage at those facilities was 628 thousand gallons in 2019.*
Throughout our enterprise, we derived 100% of our energy from the grid in both 2018 and 2019. We used publicly available data to estimate the amount and proportion of our energy and electricity usage that derived from renewable and non-renewable sources.

Sources: EPA Power Profiler for New York/Westchester Sub-region; UK Department for Business, Energy and industrial Strategy, UK Energy Statistics, Q1 2019. Published on June 27, 2019; Bermuda Electric Light Company Limited, 2018 Integrated Resource Plan Proposal. Published on February 15, 2018.
As a financial services firm, we do not create hazardous waste in its ordinary course of business operations. However, we generate hazardous waste through the disposal of IT equipment. Over the course of 2019, our office at 1633 Broadway disposed of 547.8 lbs. of E-waste. We did so in compliance with ethical recycling standards for all IT equipment by using a vendor for electronic waste disposal that complies with the e-Stewards Initiative. The e-Stewards Initiative defines and promotes responsible electronics reuse and recycling best practices worldwide.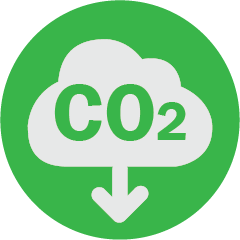 Managing Greenhouse Gas Emissions
We have instituted a program to measure, manage and report our GHG emissions on an enterprise- wide basis and set targets for emissions reductions. Pursuant to the Greenhouse Gas Protocol, we are conducting internal data collection and analysis for our Scope 1, Scope 2 and certain key Scope 3 GHG emissions. Further, beginning in mid-2020, our methodology and results will be independently reviewed.
We are using 2018, the first year of data collection, as our baseline for the development of trend data and for setting reduction targets. In order to create a consistent basis for evaluation of our emissions, we have included the footprint of our recently acquired asset management business from the beginning of the measurement period.
The tables below show estimated enterprise wide emissions for 2018 and 2019, by scope and by source of emissions.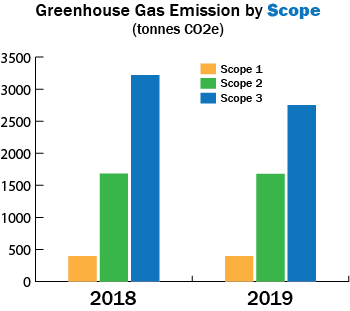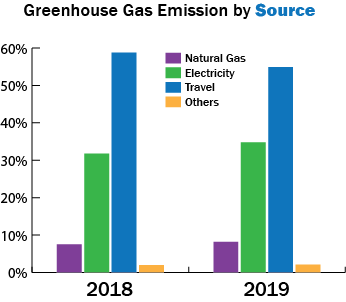 Note: Scope 3 emissions 3 is comprised of corporate air travel
and car services, and data hosting.
On an absolute basis, Assured Guaranty's total GHG emission in 2019 was 2.8% lower than in 2018. The change in emission intensity per employee from 2018 to 2019 was 1.2 and the change in emission intensity per $1 million of income was 1.1 over the same period.
In our first step on a path toward climate change goals, we aim to reduce our absolute pounds of GHG emissions by approximately 10% on an enterprise level by 2025 using 2018 data, our first recorded year, as the baseline. We continue to explore ways to further reduce our GHG emissions.

Employee Engagement and Awareness
Our employees are a valuable resource and critical ally in furthering our environmental objectives. We help our employees become more aware of their individual impact on the environment, the importance of making environmentally conscious choices, and the availability of sustainable alternatives.
We encourage our employees to use resources such as energy, paper, and water more responsibly
We make it easy for our employees to recycle by providing paper-only recycling bins at each employees' workstation as well as placing ample separate paper and plastic/bottle recycling bins throughout the office common areas
We support our employees in reducing their environmental impact by offering mass transit incentives for commuting and green cars for corporate travel
Most importantly, we solicit suggestions from our employees, who know our business the best, for more environmentally responsible ways of conducting our operations. Protecting the environment is a shared responsibility. In 2019, we began an employee sustainability suggestion box on our intranet for our employees to provide suggestions.
Our employees reuse and recycle, often making suggestions on ways to improve what we do, and partnering with senior management to make it happen. For example, our employees embraced our 2019 initiative to eliminate our regular use of disposable plastic water bottles with reusable containers.
We are encouraged by the accomplishments we have made thus far and intend to continue to do our part.
*Assured Guaranty purchased BlueMountain Capital Management and associated entities in 4Q 2019 whose data we will track starting in 2020.