Social Responsibility
INVESTING IN OUR EMPLOYEES
At Assured Guaranty, our people are critical to our success and we believe that our investment in both our workforce and our workplace strengthens our company, supports our business objectives and better serves our clients. Our average annual turnover rate over the last three years of 5.1%* (which includes retirements) demonstrates our level of commitment to our people and the effectiveness of our approach.
Diversity and Inclusion
We believe that diversity and inclusion in the workforce contribute to the strength and success of the organization. Building a team from different backgrounds, experiences and perspectives leads to increased innovation and creativity; fostering a work environment that promotes inclusion results in a more productive and impactful sharing of ideas and a stronger community. Respect, professionalism and fairness are at the heart of our corporate culture.
We are committed to equal employment opportunity and compliance with all applicable work-related laws and regulations. Employment decisions are made and terms and conditions of employment are set without regard to race, color, religion, gender, national origin, ancestry, age, pregnancy, physical or mental disability, genetic information, sexual orientation, gender expression, gender identity, marital status, military and veteran status, citizen status, or any other basis protected by applicable law. We also make reasonable accommodations for disabled employees and applicants, as required by law. Our annual Code of Conduct training, which is required for all employees, reminds us that we are all responsible for being part of a respectful and inclusive environment where everyone feels comfortable contributing their ideas and is valued for doing so.
It has been reported that, although women comprise approximately half of the population and account for more than half of the total student population in higher education, for example, in the United States and the United Kingdom, they are not equally represented in the financial services industry, particularly at the more senior levels. We are working to develop women's careers at all levels of our organization. We also support and promote a number of women's initiatives in and outside of the municipal bond and public finance industry. For information about the gender composition of Assured Guaranty's Board, senior management and overall workforce, please click here. We make this data available because we believe that transparency promotes accountability, and accountability leads to improvement.
Our belief in the importance of diversity, inclusion and equal opportunity and our social responsibility to support these goals led to our statement of support for diversity, equality, inclusion and justice. In addition to making a clear public statement about our values, Assured Guaranty made a donation to the NAACP Legal Defense and Education Fund and encouraged our employees to support organizations whose work promotes a more equitable society by offering to match those donations as well. We also announced a firm-wide holiday in observance of Juneteenth.
Supporting Women in Public Finance
Assured Guaranty and its employees are actively involved in several industry groups that support and work to advance women in public finance. Below are some of the organizations that Assured Guaranty proudly sponsors:
Northeast Women in Public Finance (NEWPF). Assured Guaranty is a sponsor of NEWPF, which is a professional organization for women who work in public finance. Assured Guaranty professionals have long been active in the organization and have served on its board. Our involvement includes sponsorship of the NEWPF Mentoring Program and its Tax Reform panel.
Women in Public Finance (WPF). WPF is a nationwide professional networking organization for women in the public finance industry, seeking to advance women's leadership opportunities by fostering relationships and providing educational activities and forums. Assured Guaranty is a sponsor of a number of WPF events, with employees also active in the organization.
Ladies First. Ladies First is a professional association of women engaged in the public finance industry. Assured Guaranty is a sponsor of Ladies First and our employees participate in their events.
Municipal Bond Women's Forum. Assured Guaranty is a sponsor of this annual day-long event focused on discussion, networking, and learning from women leaders in the municipal bond business.
Employee Development
At Assured Guaranty, we want to recruit and retain talented people. We have several programs in place to help our employees improve their credentials and skills sets so that they can achieve their career goals. Assured Guaranty maintains a strong commitment to continued education and development; we offer tuition reimbursement, payment of fees for business certifications and professional exams, as well as ongoing professional development and training. When employees thrive, Assured Guaranty thrives too.
We encourage employees to pursue continuing education by paying for:
Skills training such as Excel and PowerPoint
Management training classes
Attending industry and related conferences
Living Wage
We pays our employees fair living wages and offers a generous benefits package to eligible employees that includes health insurance for eligible employees and their families, and a 401K plan and employee stock purchase plan to give eligible employees the opportunity to plan for their future. Please see our Human Rights statement, which provides more detail on compensation as well as health and safety, discussed below.
Safety
The safety and security of employees is of vital importance to our company. We do not tolerate sexual, racial, ethnic or other harassment, whether verbal, physical or environmental, and endeavors to maintain a safe and productive work environment. To ensure compliance with our recruiting and hiring policies, we provide training programs for our managers. We have implemented a number of other measures to provide a safe and healthy work environment for our employees, clients and visitors. These include prohibiting smoking, securing entrances to our offices, and allowing only authorized visitors in the workplace. In addition, employees are expected to exercise caution in all work activities and must immediately report any unsafe condition to the appropriate manager.
COVID-19 response
In response to the global pandemic, Assured Guaranty initiated its business continuity protocols and instructed employees to work from home, placing an emphasis on the safety of our employees, their families and the communities in which they work and live. Assured Guaranty employees are operating well remotely, as contemplated in the business continuity plan that we test regularly, and we are providing the services and communications we normally would.
Health and Wellness
We are committed to promoting a culture of health and wellness for our employees. We offer comprehensive health benefits, gym membership discounts, bicycle parking in our offices that can be paid for out of pre-tax dollars, and health and wellness events throughout the year to our eligible employees. In addition, we provide:
Health Advocate, an independent company made up of professionals such as nurses, doctors and psychologists that help our employees navigate the healthcare system
Employee Assistance Programs through both United HealthCare and Guidance Resources® Online that provide confidential assistance to employees on issues as well as topics such as personal development, mental and behavioral health and wellness, parenting and family, substance abuse and recovery, financial planning, and legal issues
Financial assistance to eligible employees for certain expenses incurred in connection with the adoption of a child
Annual health fair
Annual blood pressure screening
Company-sponsored athletic teams
Discounted tickets to cultural events
Monthly wellness newsletters
ENGAGING WITH OUR STAKEHOLDERS
As a publicly traded company that is listed on the New York Stock Exchange (ticker: AGO) we are subject to, and comply with, numerous disclosure requirements. We also understand the value of dialogue. We welcome the opportunity to communicate and engage with a broad range of stakeholders that includes regulators, policyholders, issuers, investors, shareholders and our own employees. Engagement with stakeholders is not exclusive to our Investor Relations group; in their respective roles, members of our Board, senior management, and others at Assured Guaranty also participate in outreach and make themselves available in compliance with our Corporate Communications policy. We work hard to earn the trust of our stakeholders through a robust program of engagement.
For the past several years, we have been actively engaging with our shareholders in order to obtain feedback on our executive compensation program, including inviting holders of an aggregate of nearly 70% of our common shares to speak with the chairperson of our Compensation Committee
Senior Management and Investor Relations conduct investor road trips and one-on-one visits with shareholders to discuss our performance and gain insight into the issues they care about
Investor Relations regularly fields calls and emails from shareholders and policyholders
We sponsor seminars, conferences and social events where our Public and Structured Finance professionals, as well as senior management and Investor Relations, meet with issuers and investors to respond to questions and receive ideas
We participate in industry groups and trade associations and join in the conversations about policies that affect our business
Members of our regulatory group are in contact with the insurance departments and regulatory bodies in the many jurisdictions where we are licensed to do business and respond to their requests for information
Each quarter, following our earnings call, our CEO and CFO hold a town-hall style meeting for all employees where they provide an update on the company's performance, acknowledge the contributions made by employees to the continued success of the business and answer questions
CONTRIBUTING TO OUR COMMUNITIES
At Assured Guaranty, an important part of our commitment to improving the communities we serve is by helping to lower the cost for local, state and sovereign governments to fund vital infrastructure projects. For example, we guarantee financings that benefit public and private school system, universities, teaching hospitals and medical institutions throughout the United States and the United Kingdom.
We also believe in giving back – in strengthening our communities through corporate philanthropy, volunteering, and encouraging employees to contribute to the causes they care about. We donate directly to many worthy causes and also match employee charitable contributions. We undertake corporate level philanthropic initiatives throughout the year and sponsor events that enable our employees to participate in fund-raising and community outreach activities.
Below are some of the activities we and our employees work together on to express our strong commitment to giving back.
Promoting Education
In addition to educational advancement programs for its employees, we maintain a strong commitment to the education of future business leaders, members of the larger municipal bond industry and, through our outside efforts, within our immediate communities and communities in need.
Examples of the ways we promote education more generally, including outside of our organization, include:
We sponsor and teach at the Municipal Bond School run by the Municipal Bond Club of New York, which provides a forum for education and charitable giving and promotes an atmosphere of fellowship and integrity among its members
We participate in the Urban Leadership Fellows (ULF) Program run by the Municipal Forum of New York, where talented young people from underserved communities are introduced to the municipal securities industry
We contribute to a number of education-related charities through our Matching Gifts, Jeans for Charity and Holiday Card Initiative
Paid Internship Program
We typically sponsor a Summer Intern program designed to give college students an opportunity to experience working in a corporate environment. Interns have the opportunity to gain valuable work experiences in departments throughout the company and to be mentored by experienced professionals. We also host a series of internal seminars to educate interns on the fundamentals of the bond insurance industry.
Philanthropy and Matching Gifts
In support of our commitment to philanthropy, we match 100% of our employees' and Board members' donations to causes that meet our criteria for charitable contributions, up to an approved amount, aiding our employees in making meaningful contributions to the organizations that they wish to support.
Social Justice
As a company, Assured Guaranty is committed to providing equal employment opportunities, promoting inclusion and diversity in our workforce, forbidding racial and other forms of discrimination, and striving every day to maintain a working environment based upon mutual respect and cooperation. In response to racially biased incidents publicized in late May 2020, Assured Guaranty added its voice to those who spoke out against unjust acts of violence and supported efforts to advance social justice. In June 2020, Assured Guaranty issued a statement of support for diversity, equality, inclusion and justice, donated $100,000 to the NAACP Legal Defense and Educational Fund, and pledged to match dollar-for-dollar employees' contributions to eligible not-for-profit organizations whose work promotes a more equitable society.
Natural Disaster Relief
We responded to the devastating wildfires affecting Australia in 2019, the California fires in 2018 and, a few years earlier, to the 2016 earthquake in Haiti, the 2015 earthquake in Nepal and the 2013 typhoon in the Philippines by raising funds for those relief efforts. When natural disasters occur, we pitch in to help these areas recover by supporting the relief efforts. 2017 and 2018 brought a number of devastating hurricanes. As part of our commitment to strengthening communities by contributing to those in need, Assured Guaranty provided resources to help victims of the hurricanes we witnessed in the Carolinas, Florida, Houston, Puerto Rico and the U.S. Virgin Islands. We worked with local and national charities to provide aid to those affected by the storms. As a financial guarantor, we have been helping finance municipal projects in these locations for decades, so we feel a particular connection to the people and places.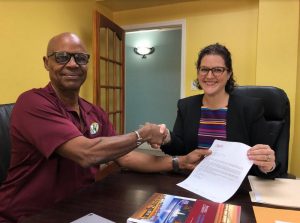 Amanda Meehan from Assured Guaranty presents a financial donation to St. Croix Foundation's Board Chair, Willard John at the Foundation's Office on Wednesday, June 20, 2018 (Courtesy of the St. Croix Foundation).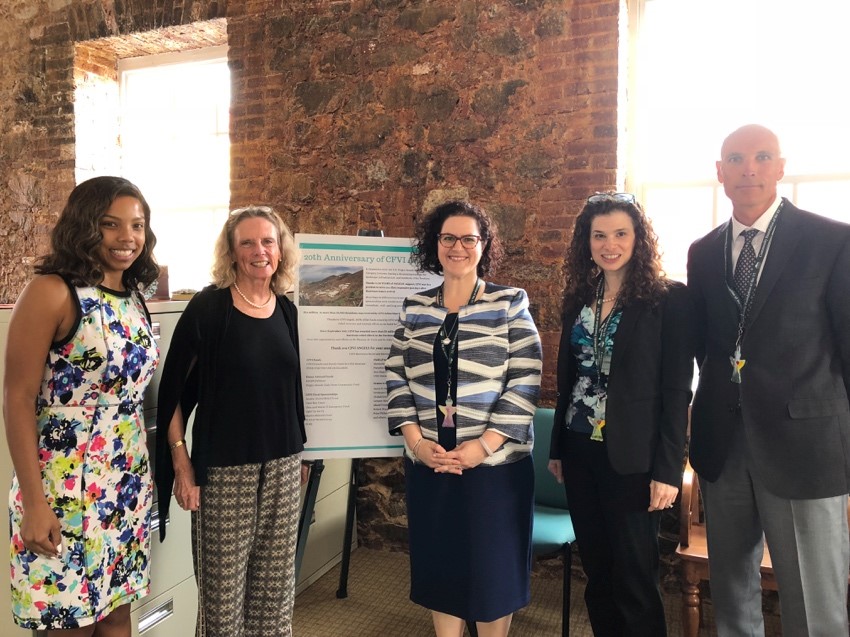 Assured Guaranty donation to the Community Foundation of the Virgin Islands, June 2018 (Courtesy of The St. Thomas Source, U.S. Virgin Islands). From left, Brittany Brin Robinson, CFVI communications manager; Dee Baecher-Brown, CFVI president; Amanda Meehan, Assured Guaranty assistant vice president of public finance surveillance; Karen Hofstein, Assured Guaranty managing director of public finance surveillance; Valery Marfitsin, Assured Guaranty director of public finance surveillance
Assured Guaranty responds to the Australian wildfires
During 2019, Assured Guaranty donated $25,000 to each of the following two charities:
The St. Vincent de Paul Society aka Vinnies which has set up a fund to help those displaced by the fires; and
The VFBV Welfare Fund which distributes need money to the volunteer brigades of Victoria
In addition to donating to the above two charities, Assured Guaranty employees made contributions through their Jeans for Charity program (described below) to WIRES (Wildlife Information, Rescue and Education Service), an organization dedicated to rescuing and rehabilitating Australian wildlife.
Jeans for Charity
Our Jeans for Charity program, which our employees created and continue to manage, is a great example of employee engagement in our philanthropic efforts. Each month, our employees select a worthy charity to contribute to and assign a day to do a fund-raising drive. Employees are invited to wear jeans that day as part of the contribution drive efforts. We match employee contributions and together we have donated to a variety of worthy causes, which include:
- American Cancer Society
- Antinanco Earth Arts School
- Bideawee Animal Welfare Organization
- Citimeals-On-Wheels
- Covenant House
- The DigDeep Right to Water Project
- Education Through Music
- Foundation for the Carolinas – Hurricane Florence Response Fund
- Grand Central Food Program (GCFP)
- Ice Hockey in Harlem
- Pancreatic Cancer Action Network (PanCAN)
- Road Safe America
- Robin Hood Foundation
- Upwardly Global
- Winthrop's Cancer Center for Kids (CCK)
- WIRES (Wildlife Information, Rescue and Education Service)
- World Central Kitchen
Holiday Card Initiative
Every holiday season, Assured Guaranty's President and CEO, Dominic Frederico, encourages all employees to submit the names of charities that are meaningful to them, from which Assured Guaranty selects two or three to receive sizeable donations. The selected charities typically provide services in a direct, hands-on way to the people they serve and are small enough for our donation to have a real impact. We announce the charities in our yearly greeting "card" to clients, which is an emailed animation; we forgo the printing and mailing of greeting cards during the holiday season both to help fund the charitable contributions and for environmentally friendly reasons.
We have made holiday donations to the following charities over the past three years. While we donate to charities throughout the US and abroad, a number of charities we donate to are local organizations, in line with our commitment to giving back to the communities we work in::
Capital Good Fund: The fund is a non-profit, certified Community Development Financial Institution that helps people with their finances. With a mission to create pathways out of poverty through equitable financial services, the fund offers families small loans and personalized financial and health coaching.
Children of Promise, NYC: CPNYC is an after-school program and summer day camp specifically designed to meet the needs, interests and concerns of children left behind by a parent incarcerated in the criminal justice system. Since its inception, they have provided services to over 1,500 children and their families.
Demelza Hospice Care for Children: Demelza Hospice Care for Children provides specialist care and support for seriously ill children, young people and their families across East Sussex, Kent and South East London in the United Kingdom, and also helps families cope with the challenges and complexities of having a seriously ill child.
The Drew O'Donoghue Fund: The fund was created to help those who suffer from adrenocortical cancer (ACC), a very rare and terminal aggressive cancer that strikes about 1,000 people a year in the U.S., including Drew O'Donoghue, who passed away at the age of 22 after a year-long battle with ACC.
La Casa De Las Madres: La Casa De Las Madres responds to calls for help from domestic violence victims, of all ages, 24 hours a day, 365 days a year. It is the only domestic violence shelter in San Francisco offering round-the-clock access to safety. They offer shelter, counseling, job placement and other support for victims in times of crisis, and work with the victims to increase their access to resources and tools that will help them build lives free from fear and abuse.
Melissa's Wish: Helps to relieve the financial burden of Long Island, New York caregivers serving people afflicted with serious illnesses, injuries or end-of-life events, by providing short term, non-medical, financial aid in the form of a grant.
Student Sponsor Partners: Student Sponsor Partners is dedicated to providing low-income New York City students who face significant barriers to academic success with a college prep, private high school education by paying for their tuition.
Visions - Services for the Blind and Visually Impaired: Visions provides services for the blind and visually impaired, including employment, counseling and individual and group rehabilitation services in the greater New York City area. It strives to help blind and visually impaired people of all ages lead independent and self-sufficient lives, educate the public about their needs and capabilities, provide support for families and unpaid caregivers and increase group and community education and activities for the blind and severely vision-impaired community.
Charitable Sponsorships
Assured Guaranty and its officers also sponsor tables at a number of philanthropic events, including:
9/11 Memorial & Museum Benefit Dinner
16th Annual Jefferson Gala (Jefferson Health)
A Fun Night For Our Parkinson's Fight
National Museum of Jewish History – 2018 Only in America Gala
Self Help Africa (SHA) – Change-Makers Ball
Her Justice
STRIVE
COVID-19 Charitable Response
Assured Guaranty employees organized and encouraged fellow employees to participate in a fundraiser which raised more than $450,000 to help vulnerable segments of the NYC population impacted by the effects of COVID-19. Assured Guaranty matched each contributed dollar 2 -1 - up to a certain maximum amount - that our employees donated to two local organizations, City Harvest and Robin Hood.
Employee Volunteering
Throughout the year, Assured Guaranty employees choose to volunteer for many and different causes. Below are a few examples of the ways we give back by sharing a very valuable resource – our time.
New York Cares Day for Schools: Assured Guaranty employees participate in New York Cares Day as part of our commitment to education. Volunteers donate their time cleaning and helping better organize local schools in order to help create a safer learning environment for New York City students where they can develop and grow. New York Cares shares our belief that education, and the state of a students' learning environment, is fundamental to enrichment and opportunity.
Cycle for Survival: Cycle for Survival, jointly run by Memorial Sloan Kettering Hospital and Equinox Gym, raises money to beat rare cancers, which make up about half of all people fighting cancer. Every dollar raised is directly allocated to rare cancer research at Memorial Sloan Kettering Cancer Center. Assured Guaranty employees have participated annually in the events, which entail raising funds and an evening of cycling.
In-Kind Donations
Assured Guaranty Coat & Clothing Drive. For the past several years, Assured Guaranty employees have participated in local clothing, toy and food drives sponsored by the management of our New York office building. In addition to supporting local efforts, in January 2019, Assured Guaranty hosted its first annual coat and clothing drive in our own offices. In the fall of 2019, we held a clothing drive for STRIVE, a NYC-based organization that helps people "acquire the life-changing skills and attitudes to overcome challenging circumstances, find sustained employment, and become valuable contributors to their families, their employers and their communities."
Technology. In the spirit of giving and reusing, our Information Technology department donates retired technology equipment to deserving charities whenever it is practicable and possible to do so in a manner which does not compromise the integrity of our information security systems.
Data Security and Privacy
Like most organizations, Assured Guaranty relies on digital technology to conduct its businesses and interact with market participants and vendors. With this reliance on technology comes the associated security risks from using today's communication technology and networks. To defend Assured Guaranty's computer systems from cyberattacks, we use tools such as firewalls, anti-malware software, multifactor authentication, e-mail security services, virtual private networks, third-party security experts, and timely applied software patches, among others.
Awareness and alertness are important components of Assured Guaranty's cybersecurity program; each year we provide employees with cybersecurity training and phishing exercises throughout the year designed to educate employees about best practices and help them identify and avoid potential threats. We ensure all employees take the required mandated cybersecurity training. We also regularly test employees' awareness through simulated phishing exercises and then share the results with them.
Assured Guaranty also engages third-party consultants to conduct penetration tests to identify any potential security vulnerabilities. Given the ongoing proliferation of viruses and malware, we continually monitor our computer networks for new types of threats.
Assured Guaranty's business operations also rely on the continuous availability of its computer systems. We maintain and test our business continuity plan and report on the results to senior management.
Assured Guaranty's internal audit function, which has been outsourced to an international accounting firm, conducts periodic audits of data security and privacy and reports on such matters to the Audit Committee of the Board of Directors.
The Board of Directors oversees the risk management process, including cybersecurity risks, and engages with management on risk management issues, including cybersecurity issues. The Audit Committee of the Board of Directors has specific responsibility for overseeing information technology matters, including cybersecurity risk, and the Risk Oversight Committee of the Board of Directors addresses cybersecurity matters and vendor management as part of its enterprise risk management responsibilities.
Assured Guaranty also protects itself against risks associated with third party vendors who have access to confidential information or provide business critical functions. Through its Vendor Management Program, we screen these third party vendors to assess their data security protocols both prior to initial engagement and periodically thereafter for compliance with the program standards.
Assured Guaranty and its subsidiaries are subject to numerous laws and regulations of a number of jurisdictions regarding its information systems, particularly with regard to non-public personally identifiable information. We are committed to protecting personal data and respecting personal privacy. Assured Guaranty's Privacy Policy explains the type of information that Assured Guaranty collects from its websites and how we will use it. Assured Guaranty's Security policy provides important information about internet fraud.
Risk Management
Assured Guaranty has an enterprise risk management framework in place, which operates under the direction of the Risk Oversight Committee of the Board of Directors that is responsible for overseeing that all of the company's material risks, including credit, liquidity, market, reputational and operating risk, are effectively identified, assessed, monitored, managed and reported to management and the Board. The framework seeks to ensure that risks to the business are appropriately managed to achieve our business strategy and objectives over time, and our risk management protocols and programs are embedded in our business practices. The key components of the framework are the Risk Register, the Risk Appetite Statement and the Own Risk & Solvency Assessment.
* Assured Guaranty purchased BlueMountain Capital Management and associated entities in 4Q 2019, whose data we will track starting in 2020.